Custom automotive RF project?
Need to reverse-engineer some legacy microwave technology?
Bring your project to RFE. Our skilled team of expert personnel delivers results, no matter the service. By coordinating with our team, you gain a resource you can trust for Microwave/RF modules that deliver. Every time.
Prototype to Production
Latest & Legacy Technologies
Every Component Tested
Agile Manufacturing Processes
Developing in RF/MW Sphere Since 1991
Manufacturing Services
RFE manufactures hardware, subsystems, and fully integrated systems for aerospace, defense, and commercial companies.
Working with us gives you access to a nimble team using advanced manufacturing methodologies and a disciplined manufacturing approach.
Having participated in numerous military and commercial programs supplying thousands of RF components, RFE is the manufacturing partner of choice for the test and manufacture of microwave and millimeter-wave satellite, radar, and sensing systems.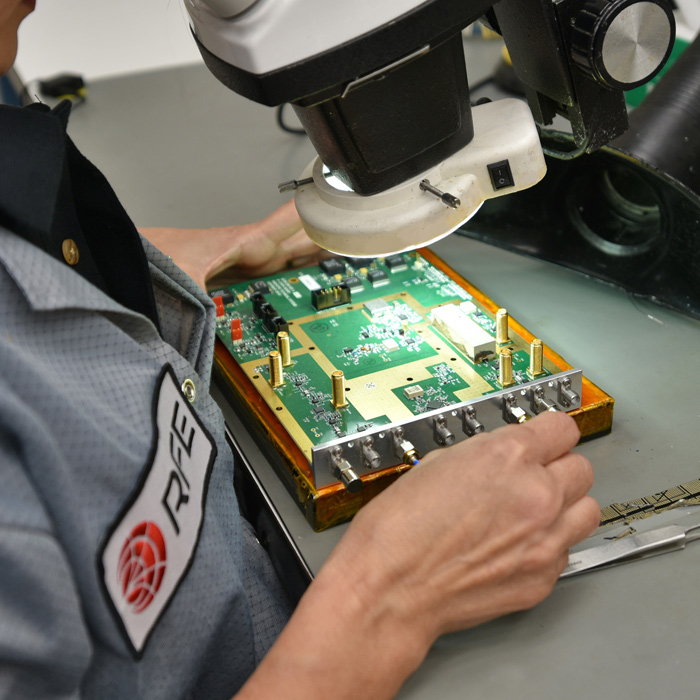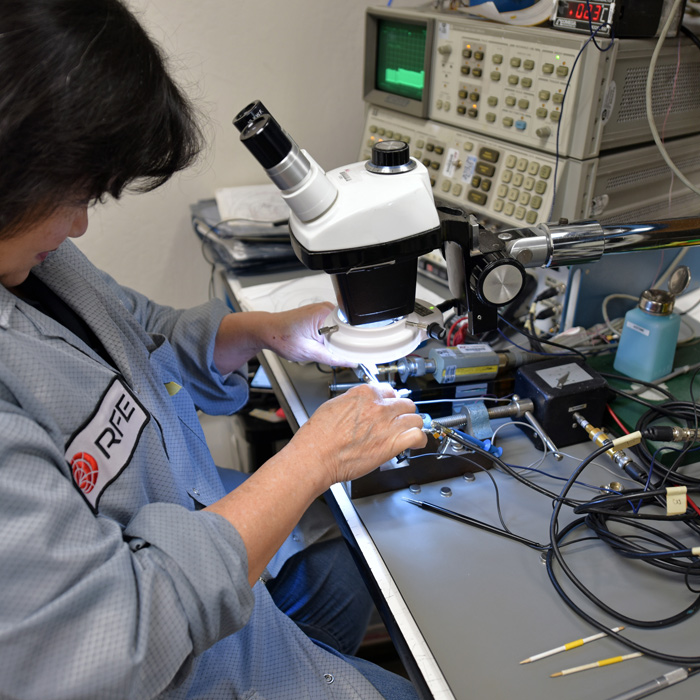 Build-to-Print Services
Need to develop fast? Use our build-to-print services. You can tap our complete RF/microwave Engineering, Quality, Test and Manufacturing teams the same way our custom design customers do.
Our expertise at RF/microwave manufacturing and testing will help you expedite development and provide the quality products you need.
Enterprise Resource Planning (ERP) System
ECN/Document Control
Manufacturing Cells & Capacity Planning
Test Automation
Acceptance Testing
Traceability
Hybrid Assembly
RFE has manufactured hybrid assemblies for space, military/defense, and commercial markets for decades. Even if your systems have high requirements, you'll find the manufacturing resource you need with us.
Our manufacturing processes are nimble. Agile. Repeatable. Everything you'll need to complete your products.
Auto Die Attach
Auto Ball and Wedge Bonding
Thermosonic Ribbon and Wire Bonding
Gap Welding
Ultraviolet Cleaning
Plasma Cleaning
Hybrid Construction Conforms to MIL-PRF-38534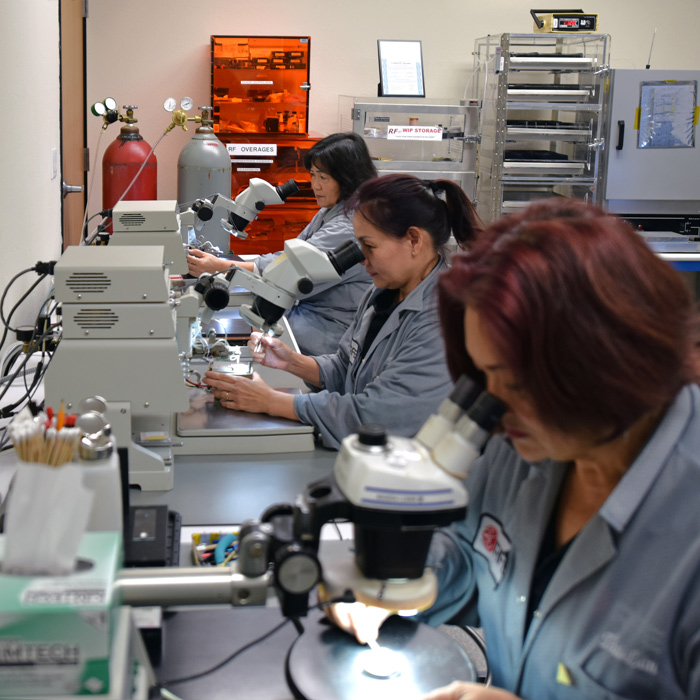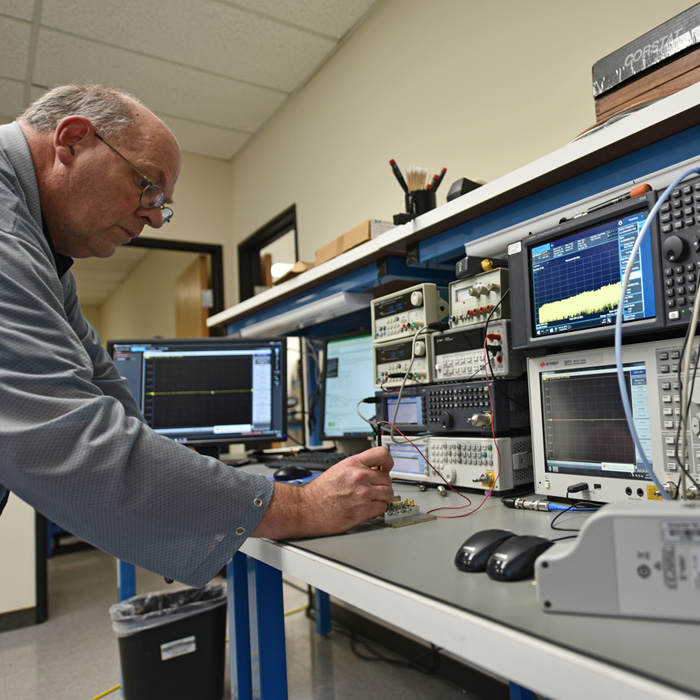 Co-Development/Consulting Services
Need help with the development process? Bring in a team of RF experts!
Our team-driven approach allows us to pay close attention to every step of a program to make sure:
You meet every product goal
Schedules and cost objectives stay on target
Every product meets your exacting quality standards, AND ours.
How do our consultants do all this? RFE's Materials Management team employs an integrated supply chain philosophy. Our team extends your team. Product quality comes in high, on-time, every time.
Further, RFE uses a Supplier Development Program to support every customer specification. Our supply base becomes yours.
Product Test, Evaluation, and Analysis
The product's complete…but you need to run tests. Comprehensive tests. The problem is, you're not sure you have sufficiently-thorough testing equipment.
Have us test! The RFE team has the equipment and sharp eye to perform all testing required.
Solderability Test and Analysis
Optical Microscopy
Electron Scanning Microscopy (10X to 1500X)
Mechanical Tolerance and Testing
Thermal and Imaging Analysis
Surface and Wire Insulation Resistance
Plating Thickness Measurement
EMI Testing
Equipment Calibration Traceability to NIST
Available Environmental Testing to: MIL-STD-810 / MIL-STD-202 / MIL-E-5400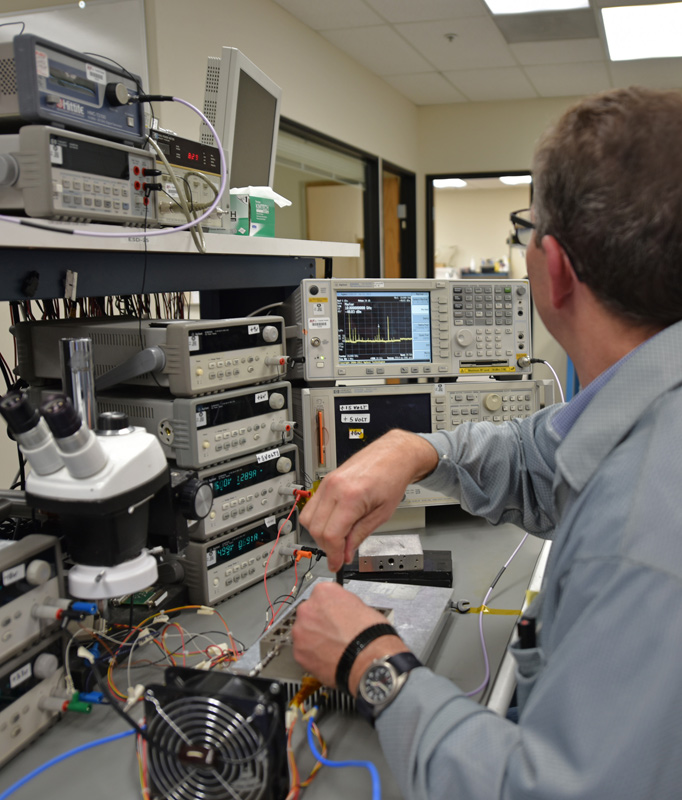 Expert Help for Building Your Next Great Communications Product
Whether your product needs a cutting-edge microwave module, or you need to support a legacy system, you'll find the manufacturing, assembly, or consulting assistance you need with RFE.